1986 Chevrolet P30 - $9,500 - San Jose, California
by Jeff
(San Jose, CA USA)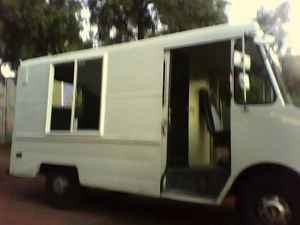 1986 Chevrovet P-30 with 92,000 miles on a 350 engine, Turbo 400 Tranmission, New Tires, Brakes, complete Tune-up, Runs Strong. Brand new paint with Stainless shelving, 4x4 foot pass thru Service Window, Honda Generator. Clean and ready for your Business Logo. Never used.
Contact: 702-556-1790.
Join in and write your own page! It's easy to do. How? Simply click here to return to Ice Cream Trucks.
---
S H A R E   T H I S   S I T E :