1995 Chevy Astro Ice Cream Truck - $3,500 OBO - Zionsville, Indiana
by Justin
(Zionsville, IN USA)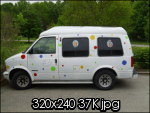 5/25/11 - 1995 Chevy Astro Ice Cream Truck with all equipment needed to start your own business! This listing is for a 1995 Chevy Astro Ice Cream truck with just under 105,000 miles on it, this listing also includes all equipment needed to start your own ice cream truck business, as well as, some upgrades on the vehicle! See below for more details!

If you would like more pictures/pictures of a specific area please contact me and I can send you more pictures! Also, has a BRAND NEW BATTERY! I bought/installed the battery on May 20th, it is not in the pictures but if you need a picture/proof I can email or text you a pic.


Vehicle:

Cosmetic Condition:

Exterior: The exterior of this vehicle is in fair condition. There are some scratches in the paint and a few dents, the most major dent is near the left brake light. There are also some other small to medium scratches and dents over the rest of the body. The windshield has a crack in it, approximately 8"-10" long, near the top center of the windshield, this crack has been covered with silicone glue to prevent further cracking and this seemed to work well for me last year as the crack did not enlarge last year or during storage over the winter. It looks like this crack is due to someone removing the rear view mirror.

Interior: The interior of the vehicle is also in fair condition. The dashboard has a crack in the top of it (as seen in picture). The driver side front door has a square hole in it and the panel covering the unlock and window up/down button is loose/falling off. It is currently held on with duct tape (as seen in picture). The carpeting is in bad condition as well it has very dirty parts etc. I cut a large black rug to cover most of the carpet and this rug makes it look much better, especially when a customer comes to the window it looks a lot better than having dirty floors. There is a hightop installed on this vehicle; however, it looks as if the hightop was not installed by a professional, there are some exposed screws as well as some pieces of wood visible. With that said, the hightop is secure and has no leaks etc. The panel above the gas pedal also seems to be missing. None of these things cause any problems, they are just small annoyances/imperfections of the vehicles cosmetic condition.

Functionality: The van runs well, I drove it almost every day for long hours last summer and I did not have any issues with it. It starts every time with no problems. Every once in a while the vehicle will stall if it is a very hot day and you have been working through a large neighborhood etc. This happens with a lot of ice cream trucks because you idle for such long periods of time, I do not think this indicates anything mechanically wrong with the vehicle, just idling in the hot sun for hours at a time can cause this. When it does stall it always starts right back up with no problem, and it has never stalled when actually driving on a street etc. It has only ever happened when the vehicle is idling.

Overall, the van runs well and I have never had any issues with it. The oil has been changed on a regular basis while I have owned the vehicle. There are some small annoyances in the functionality of some of the accessories. The most annoying is the front driver and passenger window electric switchs sometimes acts up. You may have to press it 4 or 5 times to get the window to roll down, but with a little fiddling with it the windows have always worked. Another "annoyance" is there is no radio/cd player. The music box is in place of the radio (look in picture). This should not be a problem because it is important to be able to hear people hollering at you to stop while they get money etc. These are the only imperfection in functionality I know about with the vehicle.


Equipment/Upgrades:

- Hightop

o This makes it much more comfortable working because you do not have to hunch over as much as you would in a van with no hightop while serving customers.

- All Seats Removed Except Driver Seat

o This gives you much more room to work!

- Music Box & Horn - New Last Year!

o This music box has a lot of different songs and tunes you can play (don't know exact number). There is also a port to plug in a microphone. The music horn is in great condition and the music sounds great from it!

- Large Chest Freezer

o The freezer is in rough condition, it is banged up, the seal has seen better days, and there is some rust in the bottom of it. Aside from that, it runs like a champ and can hold all your products!

- 3000 Watt Invertor

o This allows you to run the freezer off the cars power, there is also an extra battery hooked up to the invertor which will allow you to run the freezer when the vehicle is off for some time. This invertor has always worked great last year I ran a freezer and a small fridge from it and it never even got close to being overloaded.

- Sliding Serving Window

o I found this to be a great feature, it makes serving customers very easy and it looks great! There is also a small shelf on the inside behind the serving window which is a great place to set the ice cream or make change.


Other information:

I used this ice cream truck for the summer of 2010, I was tired of working for someone else and wanted to do my own thing. This was a really great business and I am sad to see my truck go. The reason I am selling this is because I have started a separate venture and I have been trying to dedicate most of my time to that. Also, I will be traveling for two months out of the summer so doing this business would not be a good idea.


Shipping:

Buyer is responsible for picking up the vehicle. I will not ship it! Vehicle must be picked up by May 28th....NO Exceptions!


Contact Information:

Cell: 317-450-6400 (call or text)

Please don't hesitate to call/text me with ANY questions! I am more than willing to let you test drive the truck before making an offer! Also, if you are from the central Indiana area I can provide you contact information with a very reliable supplier for your ice cream products!